MetroList Response to The Coronavirus (COVID-19)
Content updated on

July 21, 2020
The statewide shelter-in-place order has undeniably altered all of our lives – both personally and professionally. With new information constantly flowing in, we will be continually updating this page with fresh content as developments unfold. We invite you to check back frequently to stay apprised.
In response to the Coronavirus (COVID-19) health emergency, the MetroList team is diligently working to safeguard our Subscribers and staff. We know that you depend on MetroList for your business, and we don't expect any interruptions to your access to our Customer Support or to the tools and products you depend on to conduct your business.
In order to keep operations as seamless as possible, remote work practices are already in place for MetroList staff.  We will continue to update this page with the latest information along with resources to help you manage your business.
From all of us at MetroList, thank you for being a valued Subscriber and for doing your part in helping to keep your family and our community safe by slowing the spread of the Coronavirus!
Our thoughts are with each and every one of you.
These are challenging and unprecedented times - both for the country and the real estate industry.
With that in mind, the MetroList team is in this with you. We know that equally important to everyone's health and safety is keeping the real estate market moving as much as we can.
The MetroList Leadership team is meeting daily, and we are in communication with your local associations and MLSs around the county. We are all working together on solutions to help you continue to move your business forward.
COVID-19 Industry Guidance: Real Estate Transactions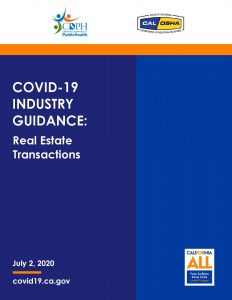 The California Department of Health and Cal Osha has produced a document, COVID-19 INDUSTRY GUIDANCE: Real Estate Transactions, to provide guidance for businesses operating in the real estate industry including sales and rentals of single-family, multi-family, apartment, commercial, and industrial properties to support a safe, clean environment for workers. The guidance does not include county health orders, nor is it a substitute for any existing safety and health-related regulatory requirements such as those of Cal/OSHA. Stay current on changes to public health guidance and state/local orders, as the COVID-19 situation continues.
Open House Listings
Please know that the State of California and Cal OSHA continue to prohibit general public Open Houses on a walk-in basis.
If you have listed an Open House in Prospector and it is no longer appropriate, please modify your settings to cancel the Open House and consider using the virtual Open House option instead.
Click here to view the COVID-19 Industry Guidance: Real Estate Transactions
A Tribute To California - TV Ad
California Association of Realtors (C.A.R.) produced this ad for consumers that we think you will like. Click on the video to view.
The MetroList team is ready to help you
Our remote staff is here to help you, business as usual.  You can reach us by phone, email, or chat, our channels are open and we are here for you. If you need us, you can still contact us in the same way you always have:
Subscriber Services: accounts@metrolist.net
Technical Support: support@metrolist.net
Education and Training: training@metrolist.net
MLS Rules Compliance: compliance@metrolist.net
Phone: (916) 922-7584 or (888) 898-9788
All MetroList training is being held virtually
As of March 16, all MetroList live class training will be held via webinars. Register for one of our upcoming webinars, view a previously recorded webinar or visit our full list of training videos.
MetroList Coronavirus (COVID-19) Email Updates
Resources
Information on Coronavirus (COVID-19)
National Association of REALTORS®
California Association or REALTORS®
Real Estate Media News Outlets

Local Associations
State of California
County Health Department Information
The 10 Things to do NOW to Prepare for the Market Resurgence webinar presented by Realtor.Com and MetroList.
Dave Howe, VP Client Success & Compliance for MetroList talks, talks with Mark Soto of the Honor Group Podcast, about how the Coronavirus Covid-19 is affecting the Real Estate Business.